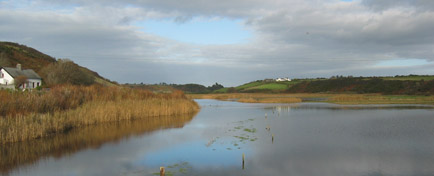 The public house (Pub) operated since 1927 in Ireland by my father's cousin's family, seems to be gone. I can find no trace of the family I lost touch with... I sent email, but it came back returned. As of 1 year ago, the darts match results were still being posted there according to the newspaper... They are still listed in an online tourism guide, but that was last copyrighted in 2003! How can I have let so much time slip by without contacting them? I am just one of many American cousins who have likely visited them over the years with my now ailing Father and otherwise... But they are rare and special to me. So kind and warm and generous... I thought there would be time, that they would remain, be there...
The "Land Owner's House" where we stayed is no longer operating either-- has become a private residence...
I am so completely crushed, flattened, bereft...
Never a more magical time to me than that trip, and nothing so miraculous than the time spent there, on the seaside, stepping briefly, welcomed, into the life of that family, that town...
I am so ashamed of all the times I planned to write, to send a tin of Christmas treats, to return, to visit... and did not.
Too many things to grieve right now, things lost, and things soon to be lost...
How can one heart be so full and yet so empty, sinking and yet floating... soaring above the things I grasp for, to say goodbye, and yet pull them back to me once more.