Yes, I know, so obvious. But I feel I must make a break away from, well.
Hmm
. Reading.
Here is a post seemingly out of the blue, but dedicated to two products I love, and which require special effort on my part to acquire. No-one nearby sells them, and they are marvelous for me and my kids. Especially now that summer is in full swing!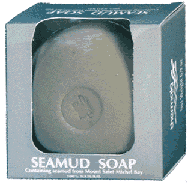 Thursday Plantation French Milled Tea Tree Soap.
(They make another bar, but this is the one I prefer.) Usually I must special order this. It does smell typically of Tea
Tree
, but is a wonder for both the wintertime dryness and seasonal itchiness that come of running free through the grass in spring summer and fall. It cleanses gently and soothes and heals. Anyone who's kids have eczema or dry skin may want to try this. I believe it contains lanolin, however even my lanolin sensitive child benefits from it!
Mode
de
Vie Sea Mud Soap
I must travel a distance to buy this, or order online. A great
exfoliator
, pore cleanser, with some skin firming qualities. Smells like a touch of old fashioned men's cologne, but scent is not strong or obtrusive or lasting. Lather up after beginning a hot shower (face too!) let sit a tiny bit. Lather up hot wash cloth with it also, and scrub away. Great on T-zone and hips and thighs alike! Apparently gentle enough for teens even with sensitive, combination skin. LOVE THIS SOAP.
Enjoy and Happy Summer!