Wow, I've never been tagged on blogger before... Spring has sprung me something new! Thanks, my lovely
Ciara
!
What is your current obsession?
What day is it? Probably taking pictures for blogs... Blogging... my new found Blog Friends!
What are you wearing now?
Levis, black tooled leather belt, 1" wide striped black and red Norma
Kamali
hip-length fitted tee, (under or around $20 at Evil
W
or
l
d
Domin
a
tion
-
Mart
... I do shop there once in a great while and couldn't resist!) with long fitted sleeves that bell out below the wrists, and go to the fingers, wide, 2" diameter silver hoop earrings (slightly tarnished), my Wedding rings, little black
Beatle
-
esque
boots. (with rubber heels for chasing-children comfort...)
Who was the last person you hugged?
My teen guy, after his break, right before the throes of homework ensued.
If you were a tree, what tree would you be?
A Catalpa; more specifically the Catalpa in front of the the turn of the (20
th
) century Sears house my Dad had near the Sea for 17 years... *sigh*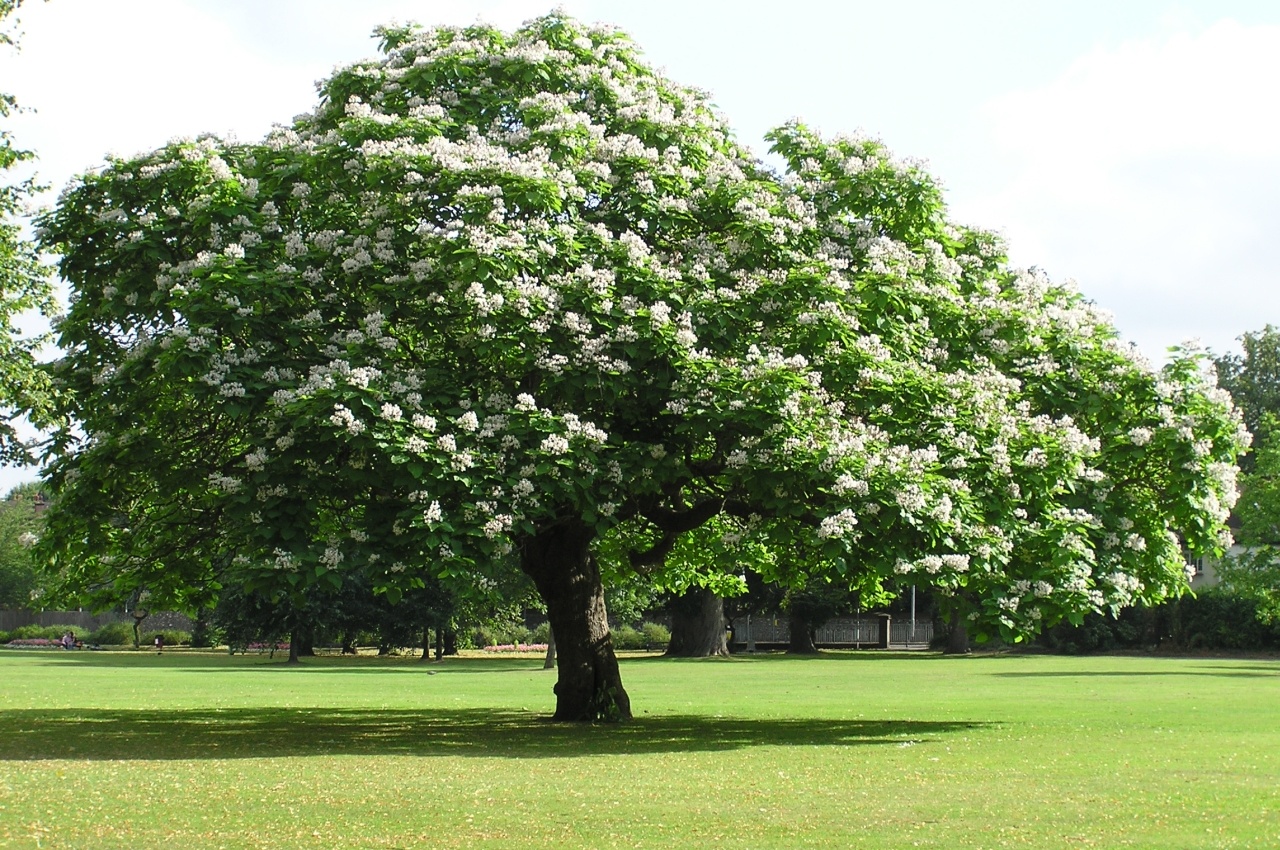 This is a fine example of a Catalpa; just click to enlarge...
What's for dinner?
Gluten Free (Pepperoni ,
Vidalia
Onion and Red Bell Pepper) Pizza-- Homemade!
What was the last thing you bought?
What, you mean besides groceries? I bought mascara; I figure it's time to try wearing it again... and a little real fur skunk made in the 70's by Real Fur of West Germany, for my sweet little thing who loves sweet little things.
What are you listening to right now?
Eva
Cassidy
, Live at Blues Alley. Also, the wind, and the sounds of the house that seem sweeter now that spring is seeping in...
What is your favorite weather? Real Summer: hot and dry and fine, where an afternoon Thunderstorm is not out of the question, lightning and lightning bug weather, where the trees are dark against the blue sky, the shadows are dark, shade is actually cooling, where you heat up all day, and the coolness comes at night, where you are rejuvenated by the feel of your bare feet being swallowed up by cold grass...
What is on your bedside table?
How to open a Financially Successful Bakery, Siddhartha,
Frommers
Paris 2006, Shadow of the Wind, Special Places to Stay in Ireland, Beautiful Boy, Proust was a
Neuroscientist
... (the stack got to be too big, and continues beside the bed... do you want those, too?) Also, a little brushed stainless retro
gooseneck
lamp, and a clear plastic princess phone, where you can see all the parts, and it lights up when it rings (so you know when the phone is ringing when the ringer is off, which it always is).
What is your most challenging goal right now? To move forward with my old GREAT BIG goals, while gathering to me all these oh-so-inspiring, energizing and propelling new goals, and wondering if /how-long I will stay in this way; having more energy, and with it seemingly more time, while time available is really the same or less... and trying to keep up with the everyday, too.
Say something to the person who tagged you: I think you are amazing and I am truly blessed to have found you and to be spending time here with you!


If you could have a house totally paid for, fully furnished, where do you want it to be?
Where wouldn't I want it to be?
Malibu, Miami,
Marblehead
-
Greystone
Beach!, Oregon,
Napa
, New Mexico-
Corrales
Village would be nice, Key West, Ireland,
Intercoastal
Waterway- a charming historic town somewhere, England- London or the
Cotswolds
, Coastal Maine, France, Italy... any of those ought to do it...
Favorite Vacation Spot?
Any of the above. Especially, my family's beach house, circa 1983-1993...
Name the things you cannot live without:
my loved ones, music, beauty, nature, aromatics whether in good food, fragrance, nature. Water.
What would you like to have in your hands right now?
My favorite perfumes; one discontinued, one seemingly on the way to be... (so here is my question:)
What is your favorite fragrance?
Blue Carnation by Roget

et

Gallet

,

Dolce

Vita by Dior.

What is your favorite/favourite tea flavor/flavour?
Once again, I cannot pick! This is me and tea; at 6 am every morning, I drink Red Rose, probably because it's what my mother drank, and it has always come with a free figurine (by Wade) in every box, and growing up, I always collected the tea-bag tags as tiny pretend playing cards for my tiny bears and
Liddle
Kiddles
, and my daughter now collects the cut white board dividers from inside to make bookmarks for everyone!
But also, as "recreational" and comfort tea drinking I very much love:
Bigelow
Constant Comment
, Earl Gray (
Twinings
is
ok
), Black Currant, & Cranberry Autumn both from
Harney
Teas, and
Genmai
Cha
(Brown Rice Green Tea) by
Maeda
En; the brown rice is toasted and roasted and some of the kernels pop and look like wee popcorn.
Here is a second question I've added; when it's time to brew tea, what do you use? Pot/pan, Kettle, Microwave, Electric Kettle, other...?
Kettle, microwave sometimes...
What would you like to get rid of? Clutter, in my house... Prejudice and Selfishness, in the world.
If you could go anywhere in the world for the next hour, where would you go? To Ireland, but I would take my Dad with me! I'd just steal him away, and I know he'd go with such glee!
If you could have your portrait painted/made by any famous artist from any era, who would you choose?
Tough choice! I must say
Maxfield
Parrish, but would also love
Waterhouse
or John Singer Sargent.
The Rules:
1. Respond and rework; answer the questions on your blog, replace one question you dislike with a question of your own invention, add one more questions of your own. (I cheated; I left all the questions and added 2, so you may omit 2 if you like, and still add one or more of your own.)

2 . Tag eight other untagged people. (And I say, "Or more. Or less!")

These are the people I'd like to have play, if they'd like to! Amanda, Miss Pine,
Puanani
, Ms. Kathleen, Lisa, &
Tutta
Rolf. Also, even though they are less familiar with me, and even though their blogs are not really inclined towards such things, I'd like to tag Noreen, Bea Fleur, and Adriana. It's still a fun way to be introspective... even if you don't publicly play. Still, it'd be grand if you did.
And, as a
longshot
I'll tag:
Barycoise
, and two other gents seemingly COMPLETELY out of the blue who's profiles/blogs I find intriguing: Chris and Peter.
You may, but needn't be, as wordy as I have been! ;) Illustrations not required... but I know all of you at least well enough to say, each of you seem quite creative...