When I moved to this house, I planted tulips in two colors, already blooming, for our house warming party; orange, and deep lilac purple. They looked great, though a cheat to plant already blooming bulbs! The next four years, the deer would munch them down to the earth, and it would be as if they were never planted. No blooms. April 16, 2007, I spied one tulip bloom in the spot where I had planted the others; the first ever to come up. Yet this blossom was not pure orange as were the originals, nor was it purple. You can see for yourself; they are orange with a reddish-purple stripe. April 16, 2007 was the day of the Virginia Tech Shootings. I carried the sole bloom to the memorial service, meaning to at some point, but never actually sharing the story of this lone flower with the family whose grief I shared.
The next year, and on the very same day, this plant produced one bi-colored flower, in the colors of Virginia Tech. This year, on the second anniversary of the event, another single flower, which was joined by a second bloom just a few days later.
Note: I'm told

Reema

means, "little deer".
Last week marked the second anniversary of the tragedy at Virginia Tech. The event that took place shook the world, not just the college community. For us, we are still greatly shaken. My son's dear wonderful teacher of 2 years lost her beautiful light filled daughter in the senseless acts of that day...
Reema
, we miss you. I still can scarcely bear the sadness the loss of this singular life brings, how to bear the rest? So many others lost family, many of them also from my area. So many people I know have attended or will have their children attend VT. And the
Hokies
have always been a stand out when it comes to being an extremely close knit school community... I am not a
Hokie
, however, "We are all
Hokies
today."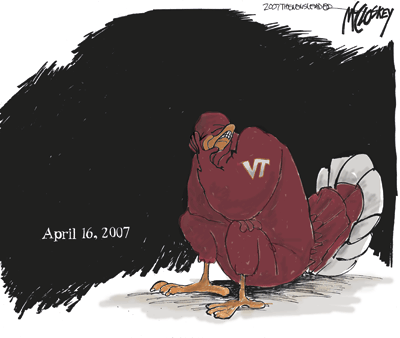 My tears preempt any sagacity or eloquence, so I will leave you with the words of convocation, We are Virginia Tech, by poet and Professor of English Literature at Virginia Tech, Nikki Giovanni:
We Are Virginia Tech
by Nikki Giovanni
We are Virginia Tech.
We are sad today, and we will be sad for quite a while. We are not moving on, we are embracing our mourning.
We are Virginia Tech.
We are strong enough to stand tall
tearlessly
, we are brave enough to bend to cry, and we are sad enough to know that we must laugh again.
We are Virginia Tech.
We do not understand this tragedy. We know we did nothing to deserve it, but neither does a child in Africa dying of AIDS, neither do the invisible children walking the night away to avoid being captured by the rogue army, neither does the baby elephant watching his community being
devastated
for ivory, neither does the Mexican child looking for fresh water, neither does the Appalachian infant killed in the middle of the night in his crib in the home his father built with his own hands being run over by a boulder because the land was destabilized. No one deserves a tragedy.
We are Virginia Tech.
The
Hokie
Nation embraces our own and reaches out with open heart and hands to those who offer their hearts and minds. We are strong, and brave, and innocent, and unafraid. We are better than we think we are and not quite what we want to be. We are alive to the imaginations and the possibilities. We will continue to invent the future through our blood and tears and through all our sadness.
We are the
Hokies
.
We will prevail.We will prevail.We will prevail.
We are Virginia Tech.


For more photos, and information: